Published on
Extensive 'research' tells us there are similarities between marathon runners and sherry drinkers, see below:
How do you know someone runs marathons? Don't worry, they'll tell you.
How do you know someone likes sherry? Don't worry, they'll tell you.
And tell people we did!
Full-on in the most fantastical of ways is one way of putting sherry week. The support and sheer volume of praise, content, videos, and photos that was put out there was nothing short of overwhelming… in the best possible way!
We can't begin to cover everything, but here are a few highlights and the beginnings of many more.
Three Wine Men Big Christmas Event, London
Tom Surgey put our sherry wines centre stage, quite literally, at this fantastic show. Presenting his Tio Pepe Negroni, Sherry Cobbler and the ever-indulgent PX Espresso Martini, he showed our sherry in a new light for many. The questions and interest that followed at our Gonzalez Byass stand were just so positive. We were truly taken aback at the amazing buzz, and were thrilled to know that so many people left the event singing the praises of our sherry range - a whole tribe of new sherry ambassadors! 

A Little Bit of Sherry Chat
We love nothing more than to chat with other sherry fans and industry experts about all things Jerez. We spoke with three different trade professionals, each with their own take and experience of the world of sherry, to find out more about them, their views on sherry  and how they go about recommending it to others.
First up was Jiachen Lu, sommelier at Dinings SW3 and part of the winning duo of the UK finals of Copa Jerez 2022. From law to wine, Jiachen's wide range of experience and expert knowledge in food and wine pairing gives a fascinating look at the versatility of sherry. Read more here 
Secondly we spoke to Ellie Scott. Beginning her career in finance then pursuing her love of all things Spain, Ellie was a natural choice to discuss the world of sherry with. See the full conversation here 
Lastly, we got to know more about Emma Young, cheese expert, consultant, and teacher! Emma dived into the endless pairings of sherry and cheese, and in the interests of being thorough in our research, we couldn't resist testing them out for ourselves. Hard work, but someone has to do it! See below for evidence, and find out more here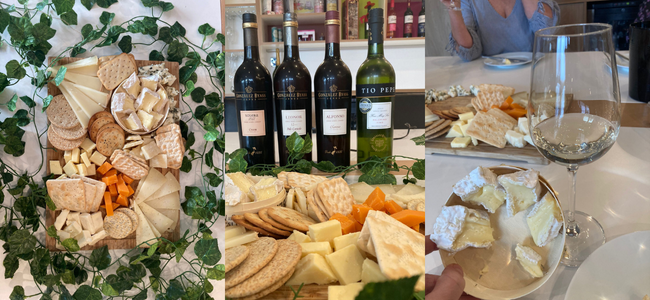 Waitrose Winter Food & Drinks Festival
Ok, so technically not in the official sherry week, but close enough! We love meeting all our long established fans, and embrace the opportunity to encourage some of the more hesitant visitors to step into the glorious world of sherry. We ran a competition offering a chance to win some fabulous wines for Christmas, demonstrated pouring sherry from the barrel with some nifty venencia skills and under the watchful eye of our distinguished Tio Pepe man, served delicious Tio Pepe and Tonic (if you haven't tried it, it's a must!). We went through more Tio Pepe than ever before at a consumer event and the feedback was phenomenal.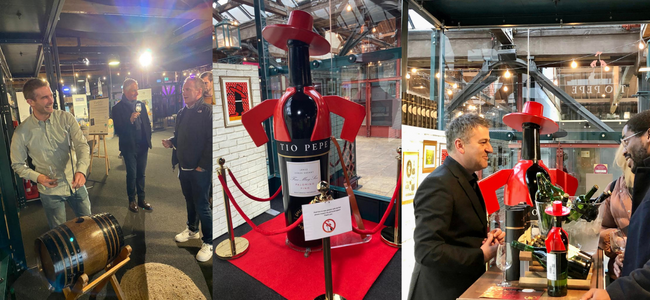 So, what next?
Every day we meet people who want to learn more about the different styles and serves of sherry. We are committed to providing simple education, and making it fun. As well as the hundreds of face to face conversations we have, we've started work on a sherry education hub which we hope will be useful and informative to sherry sellers and consumers alike.
Watch this space! And for a sneak preview, check out some of our sherry training videos here, all available for download.