Published on
Calendar awareness days are somewhat of a peculiar phenomenon. While many of course bring awareness to serious issues and causes, there's the other end of the scale which randomly celebrates everything from almonds through to pirate accents and embracing public sleeping (Feb 28th, if you're interested).
January is its own beast. Raising money and cute hashtags are no longer enough. To wear the calendar hook badge of honour, one must make month long pledges and survive the longest, dreariest month, without some of the usual vices that get us through. So, congratulations to those of you who've mastered their vegan fare while gulping mug after mug of non-alcoholic, herbal tea and crossing the 71st of January (or was it only the 17th?) off the calendar. One can only assume that it was the impending arrival of the first, and arguably most intriguing, of the vinous calendar celebrations that got you through such a feat, 'Furmint February'.
There are a few reasons we feel genuine excitement and interest towards Furmint February here at González Byass. The most obvious being our stellar partnership with globally acclaimed Disznókő Estate who you'll read more about shortly. Secondly, there's a real sense of purpose behind this promotion. Not to cast shade on the likes of Sauvignon Blanc day, but there's a certain feeling of pride in taking part in championing a grape variety with such a rich history and remarkable complexity that deserves nothing more than to be recognised and enjoyed in its myriad of styles by the UK consumer, yet currently sits somewhat under the radar.
One of the most admirable traits of Furmint's most recognised home, the Tokaj region, and Wines of Hungary who promote them, is their forward-thinking nature. Factors such as climate change and evolving consumer tastes and trends keep the best of Tokaj's producers working to showcase the very best of what furmint is capable of in a way that's both relevant and pioneering, while working tirelessly to produce the luxuriously complex and rich wines that the royal families of Europe once named the 'Wine of Kings, King of Wines'.
Officially declared a first growth in 1732, Disznókő is, for lack of a better phrase, the King of the King of Wines! The infamous fall of the communist era led to a great period of investment from replanting of vines through to a state-of-the-art winemaking facility. With the region being declared a World Heritage Site in 2002 and Disznókő winning the 'Winery of the Year' award in Hungary, the winery's most recent history is certainly living up to its royal past.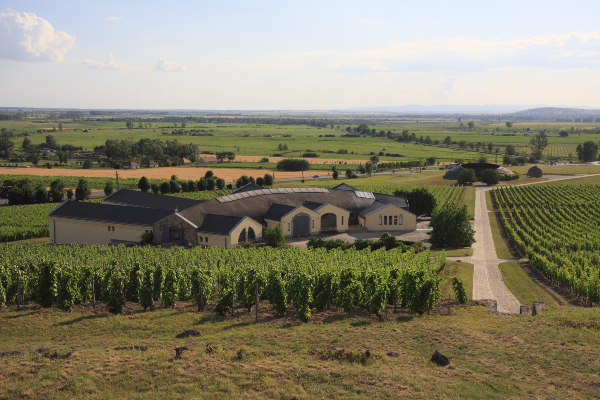 Disznókő is one of the only estates in Tokaj with just one, single tract of land. 150 hectares with the winery nestled amongst its vines, every Disznókő wine produced comes from this plot. Each year's fruit starts its life in the most favourable of locations. Waking up to an altitude of 220m above sea level may not seem grand on a global scale, but the vines are planted on steep terraces which rise well above the Great Hungarian Plain, breathing in the beauty of the panorama that surrounds. A cool, misty start to autumnal mornings is followed by long afternoons of basking in glorious sun. Early to bud and late to ripen, the Furmint grapes enjoy sufficient time to develop their famed concentration and complexity.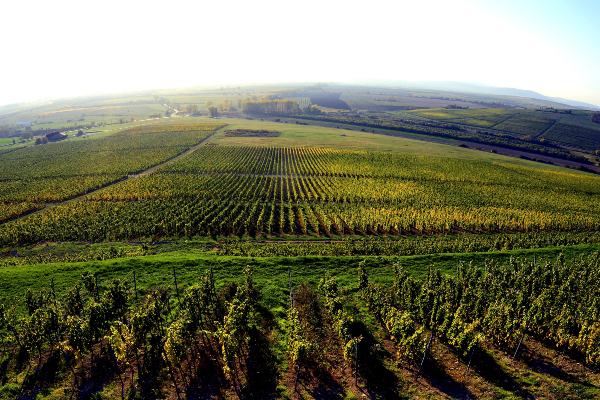 With its thick skins, naturally high acidity, and strong sugar levels, Furmint truly is the perfect host for the fickle Noble Rot. When botrytis takes hold, these characteristics allow for the development of the sumptuous, honeyed marmalade layer that overlays a backbone of pure fruit character from the grapes. The jigsaw of unique volcanic soils of the region are held responsible for the crisp minerality and powerful balancing acidity that make the sweet wines of Disznókő so truly special. 
These characteristics also bring a challenge to the production of wines of a dry style. But as we are told, with every challenge comes opportunity, and through meticulous attention to detail of ripeness and careful handling and vinification, the Furmint grape can produce dry white wines that begin life as fresh and full of life, bursting with fruits and screaming out for seafood, which later develop to have the character depth and flavour intricacy that can rival some of the greatest dry whites in the world.
The life of a Furmint grape at Disznókő is somewhat like one of those 'Choose Your Own Adventure' books. The grapes are treated so individually that they can take one of many paths depending on the level of their development at any given time. Healthy grapes are first selected for the dry wines, with development closely monitored on each vine for the remaining grapes to determine if they'll be suited for a late harvest wine or remain on the vine until transformed completely into the famed aszú berry.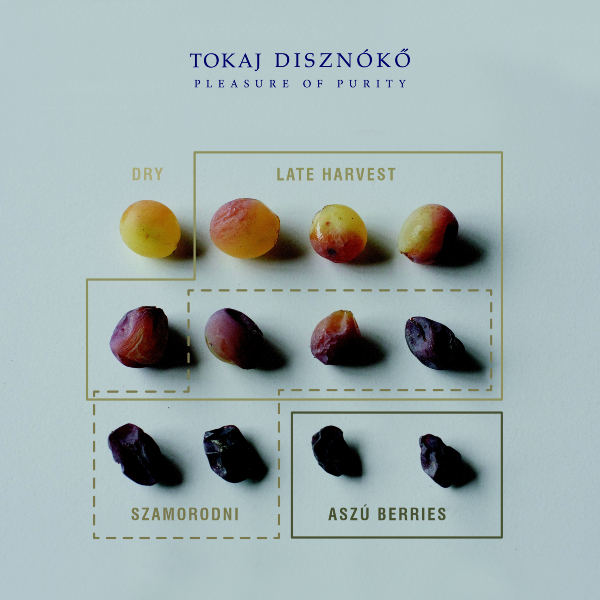 The 2020 Disznókő Dry Furmint is brimming with ripe autumnal apples and pears. Fully hand-harvested from three pickings which were vinified separately, this Furmint is truly a labour of love! The grapes were pressed without destemming and fermented in stainless steel. Batches underwent malolactic fermentation for depth and weight to balance the crisp minerality and bright fruit character.
The 2018 Disznókő Dry Inspiration has a portion of Hárslevelű added. More experimentation takes place using different yeasts, and fermentation occurs in 225 – 500L barrels, 2-5 years old, followed by a further 6 months aging in barrel. This wine captures the depth of flavour and complexity capable from Furmint. Autumnal orchard flavours are met with ripe stone fruits. The palate is a lot broader, with a richer, lusher mouthfeel. Acidity cuts through to bring balance and well-integrated oak character adds yet another layer of intricate flavour.
Moving to a later harvest, the 1413 Tokaji (Édes Szamorodni) was harvested by hand and the Aszú berries removed. Full bunch pressed with stems remaining, fermentation was mostly in stainless steel with a small portion in small barriques. A year of aging in 225L oak for further development. Disznókő set themselves apart with the purity of fruit across their whole range, and the 2015 vintage of this wine is no different.
The story behind the harvest of the 2012 Disznókő Tokaji Aszu 6 Puttonyos perfectly captures the twists and turns involved in Tokaji production. Starting as a hot, dry summer with early ripening, the aszú berries and accompanying botrytis developed slowly. Focus turned to the harvest for the dry wines to ensure maximum freshness to balance the ripeness of the fruit. Quickly the tables turned, and high humidity hit. The botrytis settled in quantities not seen in recent times, completely dusting the berries which remained juicy rather than dry due to the humid conditions. Each berry was carefully picked and stored in stainless steel until the grapes for the base must were ready. The wine spent 27 months in oak (20% new) and was finally bottled in June 2015. This wine is bright gold in colour. Fine white fruits, peach aromas and floral notes meld together with threads of vanilla and leather. Rich and creamy on the palate balanced by well-rounded acidity, the purity of the fruit sings through a long, persistent finish.
Further information on Disznókő can be found here, complete with downloadable information - Disznókő Tokaji | Gonzalez Byass - Corporativa
Disznókő will be represented at this years Furmint February events. With tastings and masterclasses in both London and Edinburgh, we hope that our customers will feel inspired and excited to attend and learn more about the Disznókő portfolio and how it will continue to grow in the UK market and achieve a more widespread popularity. Find out more information here and register your interest - Furmint February - Wines of Hungary UK (winehungary.co.uk)