Published on
Following a two year break, we were back in the electric, tense atmosphere of the Tio Pepe Challenge UK final at the fabulous Callooh Callay in Chelsea in the company of 10 bartenders ready to battle it out for a place in the international final in Jerez in May. After an intense day of blind tasting, pouring fino from a venencia and, of course, creating outstanding Sherry cocktails, Ferdia Murray of Schofield's Bar, Manchester has been selected as the winner of the UK national final.
Our judging panel was headed up by Walter Pintus, Beverage Director at Conduit London alongside Gonzalez Byass's Global Brand Ambassador, Boris Ivan and GBUK Managing Director Melissa Draycott.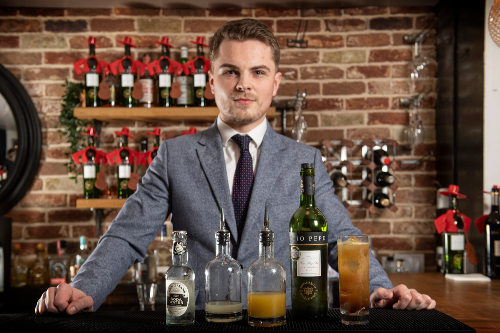 We'd like to say a special thanks to all 10 bartenders for their effort, passion, and outstanding sherry knowledge. 
Paulo Azevedo – The Goring hotel, London
Nicolas Medicamento – Itaku, London
Daniel Jonathan Selby – The Connaught, London
Ferdia Murray – Schofield's Bar, Manchester
David Riera - Bar Americain, London
Juan Jose – Beaufort bar, London
Ivan Orsini – The Aubrey, London
Giuseppe Destefano – The Rivoli Bar, London
Georgios Vrettos – Soho House, London
Daniel Kaizen – 34 Mayfair, London
Join us on Tio Pepe Instagram for sherry cocktail recipes from our finalists and to follow Ferdia's journey to the international final in Jerez next month.