Published on
We were awarded the 'Best Producer of Spain' by the Mundus Vini Grand International Competition 2022! This was on top of 3x Best in Show Awards, 2x Grand Gold Medals and 23 Gold Medals.
Victoria González Gordon, fifth generation family member, said, "We are overwhelmed by the strength of our results at Mundus Vini 2022. This is our best year ever!" She continued, "Winning two "Best of Show" awards in the Rioja category for Beronia, two Grand Golds and "Best of Show Sherry" is an amazing feat. Being named "Best Producer Spain" in 2022 is a fabulous news for us in a market which is key to our export business."
Full results listed below!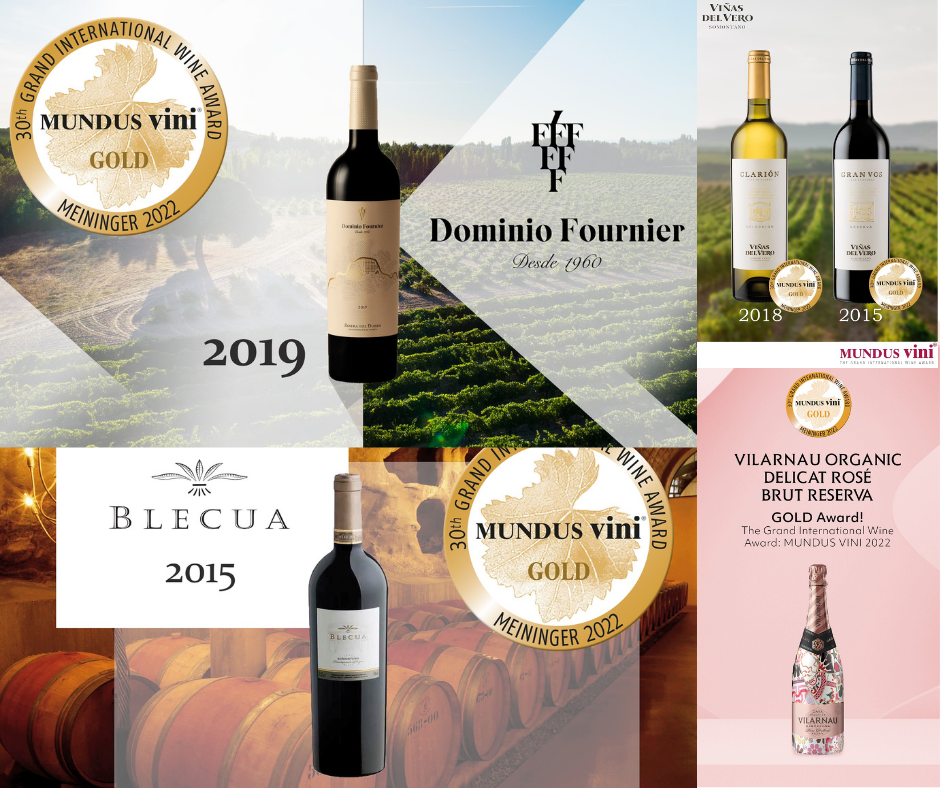 BERONIA
Beronia 198 Barricas 2013 Grand Gold "Best of Show Rioja Reserva".
Beronia Gran Reserva 2013- GOLD
Beronia Crianza 2018 GOLD "Best of Show Rioja in retail markets".
Beronia Reserva 2017 GOLD
GONZÁLEZ BYASS
Tio Pepe Una Palma - GOLD
Tio Pepe Dos Palmas - GOLD
Tio Pepe Tres Palmas - GOLD
Tio Pepe Cuatro Palmas - GOLD
Del Duque VORS - GOLD
Apóstoles VORS - GOLD
Matusalem VORS - GRAND GOLD & "Best of Show Sherry"
Noé VORS – GOLD
Nectar – GOLD
Leonor - GOLD
FOURNIER
Dominio Fournier 2019 GOLD
BLECUA
Blecua 2015- GOLD
SECASTILLA
Secastilla 2017- GOLD
FINCA CONSTANCIA
2020 Finca Constancia Parcela 23 - GOLD
2018 Finca Constancia Altos de da Finca - GOLD
VILARNAU
Vilarnau Organic Rosé brut Reserva Cava - GOLD
VIÑAS DEL VERO
2018 Clarión Selección Viñas del vero GOLD
2015 Gran Vos Viñas del vero Reserva - GOLD
VIÑEDOS VERAMONTE
Neyen - GOLD
Primus The Blend - GOLD
Veramonte Carmenere Gran Reserva - GOLD